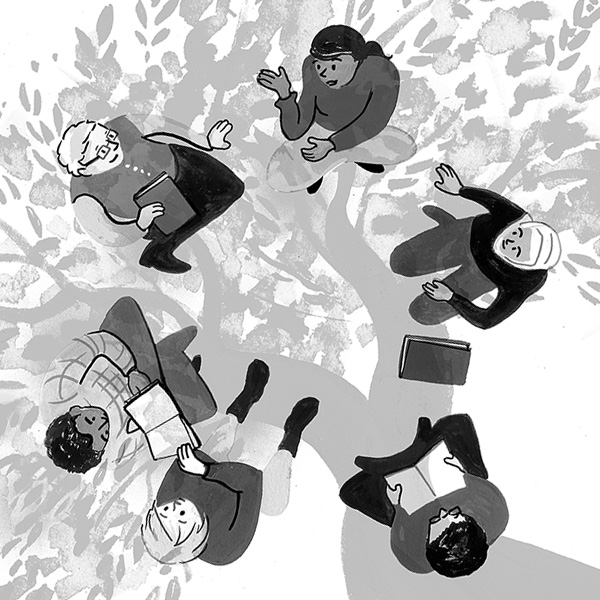 Please note that One Book, Many Communities is on hiatus for 2019, as we focus on the launch of our new project Matloub/Wanted.
One Book, Many Communities 2018 – Code Name: Butterfly by Ahlam Bsharat

The book for Librarians and Archivists with Palestine's international reading campaign, One Book, Many Communities, in 2018 was Code Name: Butterfly by Ahlam Bsharat.
Set in a small Palestinian village, this coming-of-age novel portrays life under occupation from the perspective 14-year-old girl. Butterfly and her peers have conventional teenage challenges like love and jealousy, but they also contend with fears and struggles most adults will never have to experience. Originally published in Arabic in 2009, Neem Tree Press released an English edition translated by Nancy Roberts in 2016. Code Name: Butterfly was shortlisted for the 2017 Middle East Monitor Palestine Books Awards.
This project draws inspiration from the "one book, one town" idea, wherein people in local communities come together to read and discuss a common book. Librarians and Archivists with Palestine invites readers, librarians, and others to organize gatherings to discuss Code Name: Butterfly by Ahlam Bsharat. This campaign is designed to introduce readers to the richness of Palestinian literature, and create a broader awareness and understanding of Palestinian history and the struggle for self-determination.
Please join us! Check out our already confirmed events and if you're interested in organizing a reading group in your community, please contact us. Book groups can be held at a library, university or school, at a local non-profit organization or community center, in your living room, or at a bookstore. If you schedule your event for April or May 2018, you'll be connected to readers across the globe who will be reading and discussing the book at the same time. Use your imagination! And let us know what you're planning!
Librarians and Archivists with Palestine is a network of self-defined librarians, archivists, and information workers in solidarity with the Palestinian struggle for self-determination. The hashtag for the campaign is: #lap1book.
Acquiring the book
Code Name: Butterfly is available as an ebook for the most commonly used readers worldwide, but the physical book is not widely available in North America because the English translation is published in the United Kingdom. Librarians and Archivists with Palestine bulk ordered some copies, so contact us if you are interested in purchasing a few for your group. They are $15 USD per book. UK volunteers may find the book easier to get. The original Arabic version of Code Name: Butterfly can be found in much of the Arabic-speaking world. Let us know if you have any questions about acquiring the book.
Previous One Book, Many Communities events:
2017: "Returning to Haifa" by Ghassan Kanafani as found in the short story collection Palestine's Children: Returning to Haifa and Other Stories. Kanafani tells the story of a couple that was forced to flee Haifa in 1948 and is returning for the first time in 20 years. Their feelings of displacement are accompanied by grief for the son they had to leave behind.
2016: Sharon and My Mother-in-Law by Suad Amiry. Suad Amiry writes with humor
and insight about the realities of life under occupation. From falling in love across borders to dealing with deliberately inscrutable Israeli policies, Amiry's "Ramallah Diaries" will have you laughing and crying in the same breath.
2015: Mornings in Jenin by Susan Abulhawa. Mornings in Jenin is a sweeping, heart-wrenching historical saga about four generations of the Abulheja family. From Jenin to Jerusalem to Beirut to Philadelphia, the novel follows the family from its displacement from Ein Hod village in 1948 through love and loss over decades of life in Palestine and the diaspora.