2020: The Book of Disappearance
The 2020 title for Librarians and Archivists with Palestine's international reading campaign, One Book, Many Communities was The Book of Disappearance by Ibtisam Azem, translated from the original Arabic by Sinan Antoon. The Book of Disappearance imagines what would happen if Palestinians in the State of Israel suddenly disappeared without a trace.
Set in modern-day Jaffa and the greater Tel Aviv area, the story follows Alaa, a Palestinian citizen of Israel, and his friend Ariel, a Jewish Israeli. After Alaa disappears, Ariel finds Alaa's journals. Alaa's memory of his late grandmother, a survivor of the Nakba, confronts Ariel's liberal Zionist convictions. Even in his absence, Alaa's family memories create a dialogue with Ariel as the crisis of the mass disappearance unfolds.
***
One Book 2020 Events
May 24, 2020, 3:00 pm (EDT): Public virtual discussion hosted by Librarians and Archivists with Palestine, including a live Q&A with author Ibtisam Azem. 
May 27, 2020, 7:00 pm (EDT), Rock Spring United Church of Christ with the Central Atlantic Conference Palestine Israel Network, Arlington, Virginia, U.S.A.
May 30, 2020, Left Wing Futbollista NYC (private group), New York, New York, U.S.A.
June 18, 2020, 7 pm (CDT), hosted by Progressive Jews of St. Louis, St. Louis, Missouri, U.S.A.
June 19, 2020, 7 pm (PDT), hosted by QUIT! San Francisco Bay Area, California, U.S.A.
June 22, 2020, 6 pm (EDT), live Q&A with author Ibtisam Azem, hosted by Independent Jewish Voices Canada in collaboration with Librarians and Archivists with Palestine. Watch the recording on YouTube!
June 23, 2020, 4:30 pm (BST), part of Archives of the Disappeared at the University of Cambridge, Cambridge, England, United Kingdom.
June 25, 2020, 7 pm (EDT), Interference Archive (public event), Brooklyn, New York, U.S.A.
June 30, 2020, 2-3:30 pm (CDT), hosted by the Woodland Pattern Book Center in Milwaukee, Wisconsin, U.S.A.
July 14, 2020, 7 pm (EDT), hosted by IfNotNow Toronto, Toronto, Ontario, Canada.
August 3, 2020, 6 pm (EDT), book discussion hosted by Independent Jewish Voices Canada.
* * *
Graphics
Social media graphics and templates :
Printable bookmarks:
* * *
2020 Toolkit
PLAN YOUR EVENT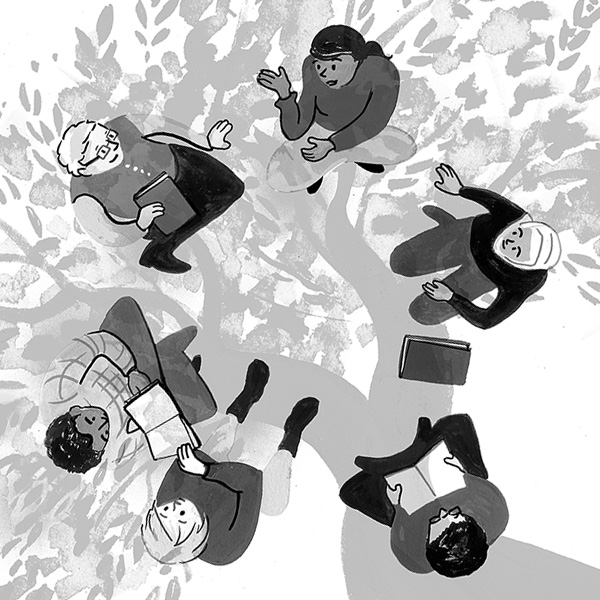 How to host a book discussion group during a pandemic – Librarians and Archivists with Palestine launched One Book, Many Communities in 2015 and in-person book discussions have been the center of our campaign every year. Of course, no one could have expected that our fifth One Book initiative would take place during a global pandemic.
But stories don't have borders, and we can still find ways to connect. Read on for tips to host your own virtual book discussion group and see our resource guide (PDF) for additional information and suggested further readings.
Choose a platform. There are a lot of digital platforms out there to host meetings. Zoom has become particularly popular, but you can also use Skype, Google Hangouts and Discord, among others. Be aware that there are some privacy issues with online conferencing (there has been some news on this front regarding Zoom recently). Try out the platform before your event and get accustomed to the interface.
Consider privacy and safety. "Zoombombing" has become an unfortunate reality as we're meeting online more frequently, and events about Palestine have become targets. Here are two articles with practical tips for protecting your event.
Pick a date in May or June 2020. If these months prove impossible and you need to schedule your group at a different time, that's okay, too.
Choose a facilitator/leader for the discussion. Find someone who's excited to read and help generate conversation around the book.
Plan the format. Depending on the size and nature of your event, this could be an informal conversation, a structured discussion around particular questions, a talk featuring a guest speaker, or even a group that meets on an online platform.
Tell LAP about your event. We will list it and link to it on our own site and Facebook page. We'd still like to know where in the world you are and if you're uniting people from your town, club, or other group.
Brainstorm how to incorporate participants. Do you already have an idea of who you want to invite? Do you want people to sign up in advance? Make sure you get correct contact information like email addresses so you can send meeting links or invites.
Consider your audience. The Book of Disappearance contains mentions and depictions of violence, including sexual violence, so it's not appropriate for all readers. Think about who you're inviting and how they can engage with the material in a safe and healthy way.
Consider your platform to ensure you understand logistics. What is the maximum number of devices allowed in a meeting? Is there a time limit? Do you know how to manage the interface? Keep in mind that all participants should be able to contribute and may not know how to use your platform of choice.
Get more ideas here (note that some of articles are about in-person events, but tips may be transferable):
PROMOTE YOUR EVENT
If your event is open to the public, publicize it:
Use our resources for promotional images, or make your own using the "One Book, Many Communities" logo. The templates include space for you to add the date and location information for your event.
Create a Facebook group and/or event page. Email us the link so we can post a link on our main Facebook page.
Tweet and Instagram using the hashtag #lap1book. If you tag us (@Librarians2Pal), we will retweet!
Let participants know where they can obtain the book:
The Book of Disappearance is available at many public and university libraries, and some may have it as an ebook. Print copies can be purchased from the publisher, Syracuse University Press, as well as most major online book retailers including Bookshop.org, IndieBound, Powell's, and Barnes & Noble.
If you'd prefer an ebook, the novel is available digitally from Barnes & Noble.
The original Arabic version of The Book of Disappearance can be found in much of the Arabic-speaking world.
Let us know if you have any questions about acquiring the book.
HOLD YOUR EVENT
Document it. Take a photo of yourself with the book, or (with participants' permission) a screenshot of the online meeting. Record any presentations. Live tweet the discussion! Remember to use the hashtag #lap1book. Let us know if you and your participants agree to share the discussion publicly.
Share tips for leading a great book discussion with your facilitator:
(several of these are adapted from the ALA Book Discussion Groups page)
If possible, communicate with co-participants in advance about your wishes and goals for the group. What would you and they like to get out of the experience? This could help you structure your meetings and build in time for breaks, media viewing, etc.
If you have time, consider collectively brainstorming questions about the book before the first meeting. This will give all participants a chance to help shape the discussion.
Talk about your experiences of reading the book. Explore how the book made you feel, and the emotions, themes, and questions it brought up.
Talk about any preconceptions you had before reading the book that changed after you read it. How did this book transform your attitudes and perceptions? What did you learn from it that you didn't know before?
Pick a passage that strikes you as interesting, moving, and/or thought-provoking. Read it aloud to the group. Discuss.
Use secondary sources, such as articles, film, or images. See our resource guide (PDF) for ideas to place the novel in new contexts.
If you could ask the author a question about the book, what would it be?
Ask one or more of these questions that LAP designed specifically about The Book of Disappearance:
When a crisis like a mass disappearance takes place, the way people and institutions behave says a lot about the society we live in. How are the reactions from the characters in The Book of Disappearance revealing? Can you think of examples from your own life experiences?
Trauma can be passed down through generations. How is generational trauma represented in this story? How does it impact the characters' lives?
How are the lives of Palestinian citizens of Israel different from Palestinians in the West Bank and Gaza? How is that represented in the story?
Were there parts of the book that surprised or confused you?
Alaa's grandmother remembers a different Jaffa than the one he knows, but he still preserves her version in his own memories. What past realities and landscapes do the elders in your life hold in their memories? Regardless of your age, what partially forgotten places live in your memory?
Share additional resources with participants. You can use our resource guide (PDF) for The Book of Disappearance for additional information and suggested further readings.