2018: Code Name: Butterfly
From March through May of 2018, communities in the Middle East, Europe and North America came together to read the Palestinian young adult novel Code Name: Butterfly by Ahlam Bsharat as part of the One Book, Many Communities campaign. Below are images from only some of the events that took place around the world to explore the themes of the novel and how it reflects current events.
The 2018 One Book campaign began in Ramallah on March 24. Nine adults and seven students met to discuss the novel and meet with author Ahlam Bsharat. The students had many questions for Bsharat about the plot and themes of the story and even expressed interest in her future writings.
A group in Montreal, Canada held a One Book event for the second year running at McGill University's Islamic Studies Library. Student participants read aloud excerpts from the book.
A women's-only book club in the United Kingdom held a discussion at a popular Middle Eastern restaurant in Bradford, Yorkshire.
Groups throughout the United States held discussion events, including several Jewish Voice for Peace chapters.
Thank you to all the volunteers who held One Book, Many Communities events his year!
* * *
March 24, 2018, 3:30 pm. Ramallah Public Library (Children and Youth Library), Ramallah, Palestine.
April 4, 2018, 6 pm. McGill University's Islamic Studies Library, Morrice Hall, 3485 McTavish Street, Montreal, QC, Canada.
April 11, 2018, 6 pm. Educational Bookshop, Salah Eddin Street 19 & 22, Jerusalem, Palestine.
April 19, 2018. Private group. Please email us if you would be interested in attending. New York, NY, U.S.A.
April 19, 2018, 7:30 pm. Bab Tooma Restaurant (Those wishing to attend please join Book Club Leeds here and confirm your attendance. Please note this is an established book Club operating in Leeds, for women.) Bradford, Yorkshire, U.K.
April 22, 2018, 2 pm. Palestinian American Community Center, 388 Lakeview Avenue, Clifton, NJ, U.S.A.
April 29, 2018, 3-5 pm. 204 Rigsbee Avenue (note sign at door for instructions to enter), Durham, NC, U.S.A.
May 28, 2018, 6:30 pm. Toronto Public Library, Yorkville Branch, 22 Yorkville Avenue, Toronto, ON, Canada.
* * *
Promotional materials for Code Name: Butterfly
* * *
2018 TOOLKIT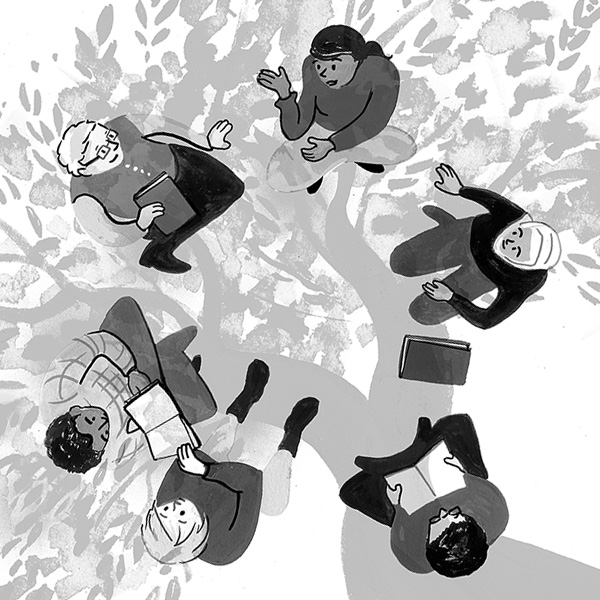 PLAN YOUR EVENT
Choose a venue. Remember that a library, community center, bookstore and other public venue schedules can fill up fast, so schedule your event as soon as possible.
Pick a date in April or May 2018. Make sure you get it on the schedule of your venue. If these months prove impossible and you need to schedule your group at a different time, that's okay, too.
Choose a facilitator/leader for the discussion. Find someone who's excited to read and help generate conversation around the book.
Plan the format. Depending on the size and nature of your event, this could be an informal conversation, a structured discussion around particular questions, a talk featuring a guest speaker, or even a group that meets on an online platform.
Tell LAP about your event. We will list and link to it on our own site and Facebook page.
Coordinate with your venue or host to ensure you understand logistics. What is the maximum number of people? Will there be refreshments? What is the seating arrangement (all participants should be able to see and hear one another)?
Get more ideas here:
PROMOTE YOUR EVENT
If your event is open to the public, publicize it:
Use our resources for

flyers and bookmarks

, or make your own using the "One Book, Many Communities" logo. The templates include space for you to add the date and location information for your event.

Create a Facebook group and/or event page.

Email us

the link so we can post a link on our main

Facebook

page.

Tweet and Instagram using the hashtag #lap1book. If you tag us (

@Librarians2Pal

), we will retweet!
Let participants know where they can obtain the book:
Code Name: Butterfly

is available as an ebook for the most commonly used readers worldwide (more info on that

here

).

When it comes to physical books, the English translation of

Code Name: Butterfly

is published in the United Kingdom so it might be difficult to find for readers based in North America and elsewhere. Librarians and Archivists with Palestine bulk ordered some copies of the book, so

contact us

if you are interested in purchasing a few for your group. They are $15 USD per book.

UK-based readers may find the book easier to get. The original Arabic version of

Code Name: Butterfly

can be found in much of the Arabic-speaking world.

Let us know

if you have any questions about acquiring the book.
HOLD YOUR EVENT
Document it. Take photos (with participants' permission). Record any presentations. Live tweet the discussion! Remember to use the hashtag #lap1book.
Share tips for leading a great book discussion with your facilitator:
(several of these are adapted from the ALA Book Discussion Groups page)
If possible, talk with co-participants in advance about your wishes and goals for the group. What would you and they like to get out of the experience? This could help you structure your meetings and build in time for refreshments, media viewing, etc.

If you have time (and perhaps an online platform), consider collectively brainstorming questions about the book before the first meeting. This will give all participants a chance to help shape the discussion.

Talk about your experiences of reading the book. Explore how the book made you feel, and the emotions, themes, and questions it brought up.

Talk about any preconceptions you had before reading the book that changed after you read it. How did this book transform your attitudes and perceptions? What did you learn from it that you didn't know before?

Pick a passage that strikes you as interesting, moving, and/or thought-provoking. Read it aloud to the group. Discuss.

Use secondary sources (including dictionaries, history texts, film, photography, see our

resource guide

(PDF) for ideas) to place the novel in new contexts. For instance, look up a historical event to learn more about it.

If you could ask the author a question about the book, what would it be?
Ask one or more of these questions that LAP designed specifically about Code Name: Butterfly. Adult or mixed ages discussion group:
In

Code Name: Butterfly

, we see complex social and political issues through the eyes of a 14-year-old. What about the novel recalls current events in occupied Palestine? Are there events or narratives in the story that you wish you knew more about?

What can we learn from Butterfly's story about the lives of Palestinian youth?

Gender roles and honor are a major theme of this novel. What stood out to you Butterfly's comments on gender?

"In Palestine, children have to prove they're children." What does this statement mean in the context of the novel and in the reality of the occupation?

Butterfly is conflicted about her father working on an Israeli settlement. What does this raise about the ethics of complicity vs making a living?
Questions for younger readers:
What aspects of Butterfly's story are familiar to you? Which parts our different from your experience?

What did you learn about life in occupied Palestine that you didn't know before? Were there parts of the story that you found confusing?

Butterfly keeps things she can't talk about in a treasure chest. Do you sometimes have questions that you are afraid to ask or feel like you can't ask? What do you do when that happens?

Often Butterfly's friends are very critical of her and try to "one up" her. Is this something you've experienced at school? What could Butterfly and her friends do to be more supportive of each other?

"In Palestine, children have to prove they're children." What do you think Butterfly means by this?
Distribute any additional resources to discussion participants. You can use our resource guide (PDF) for Code Name: Butterfly for additional information and suggested further readings.
Encourage participants to keep the conversation going. Suggest that people donate their no-longer-needed copies of Code Name: Butterfly to a local public, university, school library or other community center (but check first to make sure they take book donations!).